The International Student Building/International Student Dormitory is a fourteen-floor apartment. The first floor is a teaching area. College of International Education occupies the second floor, the third to twelfth floors are student's apartments, whereas the thirteenth and fourteenth floors are foreign teacher's apartments. En suite double- and single- rooms furnished with hot-water shower, air conditioner, electric fan, desk and so on are available for students. Public laundries are on the sixth and tenth floor while other floors have public kitchens.
Accommodation Fee
Room Type

Single Room

(CNY)

Double Room

(CNY)

Room Facilities

Public Area Facilities

South Section

(Sea View)

1,200/month

700-750/month

Bathroom, Shower, TV, Electric Fan, Furniture, Internet, Air Conditioner

Washing Machine, Kitchen, Gym

North Section

(City View)

1,000/month

600-650/month

Short Stay

70/day

50/day

Temporary Stay

120/day




Room Deposit: 1,000

NB:

1.Room deposit is refundable at check-out if there is no room damage.

2.A minimum of six-month rent is charged to long-term students at check-in.

3.The electricity fee is CNY 0.55/KWH and is subject to change by government. Students however have a monthly free offer of 60 KWH.

4.Room central heating is free of charge in winter.

5.Students pay their own internet access fee.

6.Short and temporary stay students pay for water and electricity worth the amount used.

7.Six double rooms on the east and west end on floors 3 to 12 cost an extra fee of CNY 5/day and CNY 100/month due to their larger space compared with regular double rooms.

8.Reception phone number: +86-532-86981192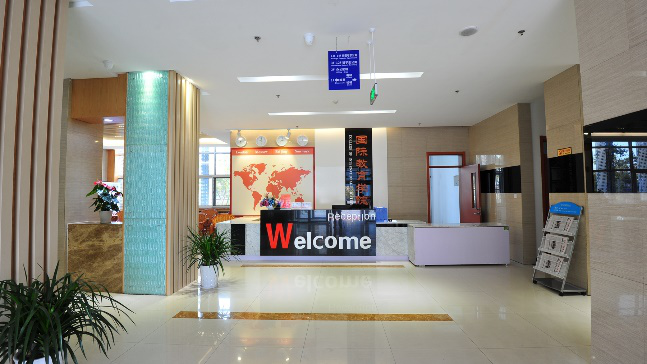 Reception (24 hours open)
Regulations on International Student Accommodation Management
The following regulations are intended to maintain a safe, clean and suitable environment for the studying and living of international students.
1. The international student dormitory is designated for the accommodation of international students in UPC. All the students enrolled at UPC are suggested to lodge in the dormitory for the first academic year and apply for living off campus for the following years.
2. International students should first register in the admissions office of College of International Education and then register at the Reception. Upon reading the Regulations on International Student Accommodation Management and paying the accommodation deposit and fees, students should sign for lodging in after checking up the room facilities.
3. Students should follow the arrangement of accommodation coordinators. The room should not be transferred, sublet, exchanged to others. No other person is allowed to lodge in or stay overnight in the room. All students are prohibited from engaging in illegal activities in the dormitory. One will receive a written warning if found to have transferred or exchanged your room to others without permission from the college, causing the room address to differ from the one registered in college regulation system and visa system. Those who are engaged in illegal activities in dormitory shall receive a deferred suspension or expulsion.
4. The rest time in dormitory is from 12:00 to 14:00 at noon and from 23:00 to 7:00 at night. During this period, students are required to keep a quiet environment and are prohibited from conducting activities that affect others, such as dancing, speaking extremely loud, and playing music or musical instruments loudly and so on. Violations for the first time will result in an oral warning and frequent violations will cause other penalties like deferred suspension and some others.
5. The dormitory entrance is secured by electronic lock. All students are required to swipe their campus cards to enter the building. Climbing or jumping through the windows is prohibited, and violators will receive an oral warning for the first time, and deferred suspension or expulsion for the second time. Should this conduct resultin severe consequence, the student shall be investigated for criminal responsibility by public security.
6. Students are required to keep the room, corridor and toilets clean and unobstructed. All waste or rubbish must be properly disposed. Littering from the windows and balconies is prohibited and no pets are allowed in the dormitory. Otherwise, a written warning is applicable. All students are required to clean the rooms by themselves. Routine inspection will be conducted from time to time.
7. Intentional damage, dismantling or retrofitting to the furniture and equipment in the rooms or public area is prohibited. Students shall be required to pay for the loss or damage to the dormitory property. The payment shall be limited to the actual cost of repair or replacement of such property. Where responsibility cannot be attributed to a particular student, all students having access to that room or area within dormitory will be deemed equally responsible. The bedclothes are not included in the compensation list, which contains quilt, puff, sheet, blanket, pillow and pillowslip. Natural losses of or damage to the property could be reported to the duty room for repair or replacement. Students are required to hand in all the property in the room before checking out upon graduation. Students shall allow the accommodation staff or duly authorized personnel to access the room, undertake regular maintenance or occupancy status inspections at all reasonable hours of the day or at any time during an emergency or when a breach of regulations is suspected. Confrontational behavior, including foul language towards staff, could result in oral warnings and other disciplinary sanctions.
8. Beware of electric safety and pay attention to power and water saving. Disorderly wiring, retrofitting the switch box and fire hose reel is prohibited. If it happens, the students will receive an oral warning for the first time, and deferred suspension or expulsion for the second time. It's prohibited to store and use high-power electrical appliances (over 1000W) such as electric rice cooker and electromagnetic oven. If the fire alarm system goes off due to cooking, the college will confiscate the cooking appliance, disqualify the students for accommodation, and deferred suspension or expulsion is applicable.
9. Students are not allowed to gather a crowd to smoke cigarettes, cigar or hookah in the apartment. If the fire alarm system goes off due to smoking, the college will confiscate the smoking tools, disqualify the students for accommodation, and deferred suspension or expulsion is applicable.
10. It is prohibited to park or lock bicycles onto fire-fighting equipment. Violation will result in a written warning.
11. Students are required to check out of the dormitory on the appointed date, otherwise they would be charged a full accommodation fee as continuous residents. If a student wants to prolong the residence period, he/she is required to extend the application in the Reception. The residence period takes effect from the checking-in date to the date the student checks out. If a student does not check out during the winter or summer holidays, he/she is recognized as using the room and is required to pay the fee. Students shall pay attention to the "Payment Notice", and prepay accommodation fees ahead of time. Should the students fail to do so, the supply of water and electricity will be cut off after free power runs out, and the door card deactivated. Students should pay the accommodation fee by semester or the residence period in a single payment on the checking in day. Students experiencing difficulty in the payment must apply for delayed payment or monthly payment from the College of International Education. Students whose period of residence is between one and two weeks will be charged on a fortnight basis, and between two and four weeks for the monthly basis.
12. Money and other valuable property should be kept carefully. Students are required to lock the door whenever outside of the room and to keep the key carefully without transferring it to others.
13. Visitors to the international student dormitory should register at the Reception before meeting the students and inform the Reception of their leaving. Visitors without valid IDs will be prohibited from entering the apartment. The person on duty will call campus police if the visitors enter the dormitory without registration. The visitation time is before 23:00. Staying overnight in the international student dormitory is forbidden, and could lead to the investigation from campus police.
14. Use water and electricity safely and sparingly. The amount is rationed and excess usage beyond the free limit will be charged. Each student will enjoy 60 KWH free electricity per month, which will be topped up every three months. Students should pay at the Reception for excess portion beyond the charge-free limit. Students should take good care of the water and electricity devices and turn off the light and water tap whenever leaving the rooms.
15. It is strictly prohibited to move, damage or set off the fire alarm and other fire-fighting devices for no reason causing panic. Violations will result in different punishments according to their severity, ranging from written warningto expulsion.
16. To maintain public safety and environment, falling objects from heights are strictly prohibited and violations will result in deferred suspension and losing the qualification of living on campus.